Home
Welcome to Crime Professor
(This brilliant guy is our daddy!)
Play into the killer's fantasy, believe it yourself, Morgan tells Reid. 'Criminal Minds' are a terrible thing to waste. But you can read about the real thing: Go to Books Articles for Sale on This Website or click this

One mission of Justice Writers of America JWA (click on left of screen) is to provide online books, scholarly studies, and articles in the field of criminal justice. Are you ready to study prehistoric throwbacks from an ancient world who are wired-wrong from the get? Once you start, you'll always look over your shoulder while you pray, when you shop, and when you try to sleep. Predators are in places you never expected. This work is jammed with bizarre accounts of incredible human cruelty of every variety so much so -- caution is applied.
PUBLISHING SCHEDULE
Introduction to American Policing 2nd ed, Jones & Bartlett May 2017
Cops At Risk: Homicide, Litigation and Disease, Cognella Academic Publishers May 2018
See menu for details
Introduction to American Corrections and Probation, Cognella, August 2019
Ambushed Cop Killers, August 2016 see side ribbon
3rd Ed. Inside the Mind of the Serial Rapist. Summer 2017
Predatory Nation: Historical Fiction Fall 2016
"How many more Americans would you have killed if you didn't enlist and fight in combat?" the President asked Bill. "Every leader from every civilization since time began uses God, guns, and guts philosophies to recruit their best and their worst without prejudice." Chapter images are available - click Predatory Nation at left ribbon or http://www.predatorynation.com/
Cops and Docs: Will They Help Us? Commerical Fiction 2015
Moving toward NY Best Seller List. Given that America is the primary target of extremists, Ebola is the suicidal terrorists' perfect weapon against America. Cops and Docs is about the quality of care provided by emergency first responders regulated by law and certification. Although Cops and Docs glorifies a renaissance of capitalism, it is a story void of social justice and compassion. Bottom line, when tragedy strikes, if you're black and poor, you die first. It is no longer "if" an attack will happen, the invasion is in progress, orchestrated by ISIS agitators.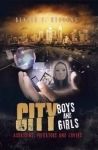 City Boys and Girls: Assassins, Predators and Lovers
Christian and Muslim empires battle for control of Destiny, a supercomputer that can enhance opium growth, control weather, and guarantee financial global dominance. In hot pursuit are city boys and girls leaving Caliphs and generals, Dubai and Boston universities, a few Harvard shrinks, a wishful African King, and a wicked ISIS agent. Although love and friendship start this story, Stevens, a nationally recognized criminologist weaves shattered violence and lethal obsessions whining through various masquerades of twisted clashes between gods, betrayal and entrapment.
Criminal Justice Pursuit
Criminal Justice Pursuit is a free, educational website helping students earn a criminal justice degree with information about programs, online colleges, and criminal justice careers.